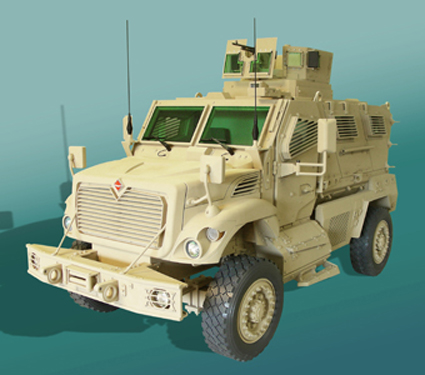 Whenever your company is a manufacturer or wholesaler of vehicles or aircraft, you are attending trade shows and running indoor presentations for your clients. Therefore, we offer you scale models for trade shows and presentations. Those are the largest and the most fantastic looking replicas. The bigger your booth at a trade show, the larger model you have to exhibit, so it will not be lost there and will be as effective and magnetic for the audience as you need it to be. Depending on the type of vehicle or aircraft, the most suitable scales for such models are 1:4, 1:5, 1:6 and 1:10.
Some of you might say: "We are bringing real vehicles to the show. Why do we need a model?"
A model has a number of advantages over a real vehicle:
1. Models are compact. How many real vehicles can you bring to the show, considering each one is as big as a tank, MRAP or personnel carrier? Two? Three? In most cases the company is exhibiting one real vehicle, the latest one or the one that you are advertising the most. What if there is a buyers for your other system, which is not presented or presented modestly by photograph or illustration. Will you cut off that part of the audience and let them not to make a buy? Having scale models, you can show more systems without bringing them all "in person"; therefore your exhibit will be more presentable and versatile. High quality realistic models in large scale will represent your vehicles as good as the real ones, especially if to include features emphasizing areas of interest, which will benefit your clients and will make point of sale. Such features could be different and depend on the type of vehicle and it's specifics. Exhibiting models gives you an opportunity to present up to 5 – 6, maybe more of your systems with the same or even better effect.
2. A model is a natural magnet for the audience. During the show you will have a crowd in your booth around the model/s at all times. People are like children, they cannot resist a model, cannot just pass it by and walk on further, and that includes big executives, your buyers.
3. Cost of transporting a model or even several scale models cannot be even compared to the cost of bringing the real vehicle. Also, there might be less important trade shows, which might not be worth bringing a real vehicle to, yet with the models, you are still able to attend it for a small fraction of the transportation cost and make the best of it.
4. Real vehicle is a very straightforward element of an exhibit – kind of "what you see is what you get". When it comes to emphasizing an important, "point of sale" features, you often cannot see it and you sales crew might not be fast enough to bring the attention of the audience to such features. That is where a model is irreplaceable. By adding special features, such as "see through" areas, cut-aways, interactive systems etc, key features of your product will be exposed, self-explanatory and will draw even more audience.
5. There are products, mostly structures or extra large vehicles, which simply cannot be physically brought to the show. In that case a scale model is your only option to make a serious impact.
Trade show models are usually accompanied by a custom transit case - we provide them along with the model.
Trade show / presentation models-replica's cost usually lies within the range of $15,000 - 25,000 depending on the size/scale and features. It is an investment, no doubt, however, it is an investment which will make you millions of dollars in sales. Marketers are investing more in videos, 3D presentations, expansive booklets and mailers, which all together cannot be as spectacular as a scale model. Don't ever hesitate to invest in a model - it is the most effective and profitable tool, which pays back fast and generous.
As for 3D, we usually produce a 3D digital model prior to fabrication of an actual physical model. A digital model serves to generate renderings for approval and tooling for rapid prototyped parts and components. Once a 3D model is created we can produce replicas of the same vehicle in smaller and larger scale or in the same scale for relatively lesser cost. So, when you are ordering a model from us, you usually have a 3D digital model as a collateral product, very useful for other marketing applications.