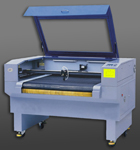 This method does not require detailed introduction. Laser cut and engraved parts, mostly for architectural models, made their way to professional model making several decades ago. Along with CNC laser cutting can be considered as one of the veterans in development of computer controlled rapid prototyping technology.
This technique is relatively inexpensive, simple, fast and accurate. Laser cutting machines are able to translate an input in form of simple graphic files, such as JPEG, TIFF or PDF.
Like CNC, it utilizes a wide variety of materials, including plastics, composites, woods and metals. The best type of media is a sheet type materials, which has to be precisely cut from side to side or half way through the material.